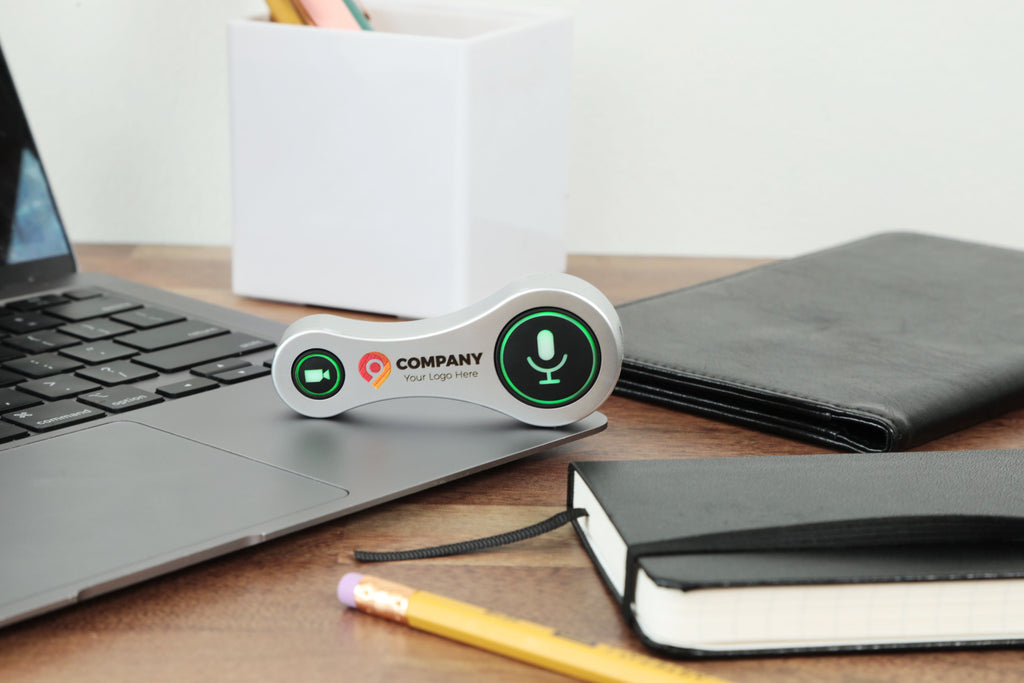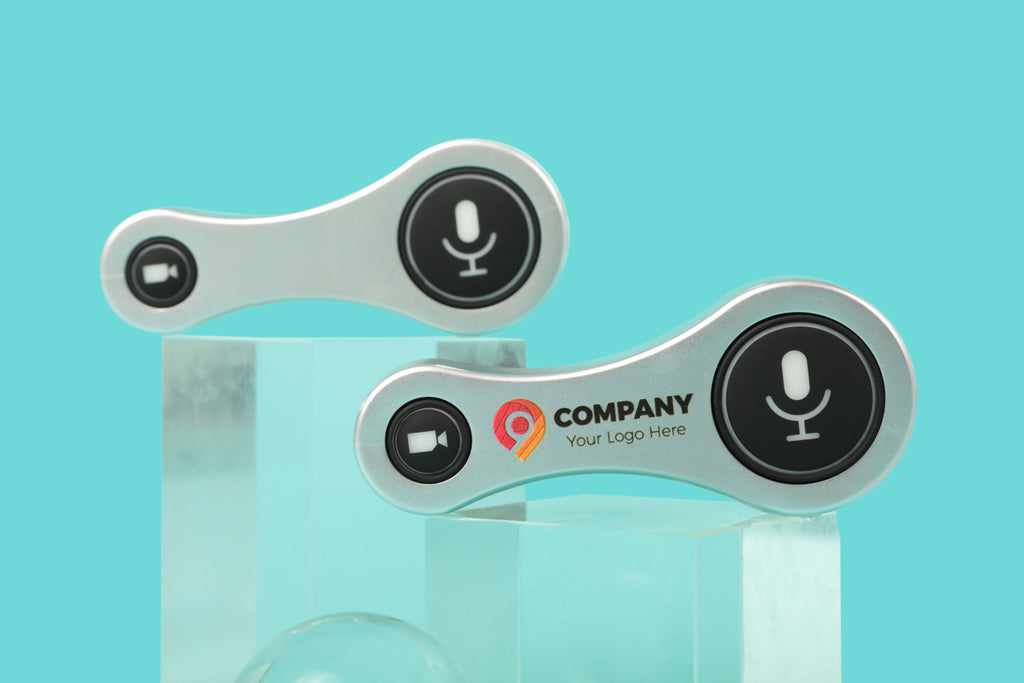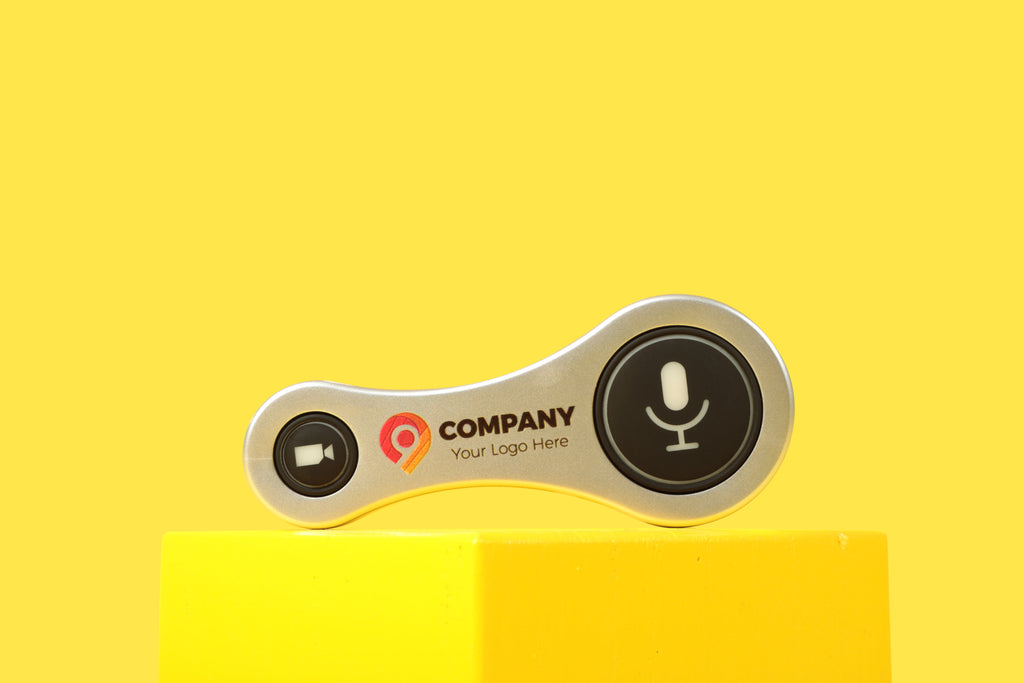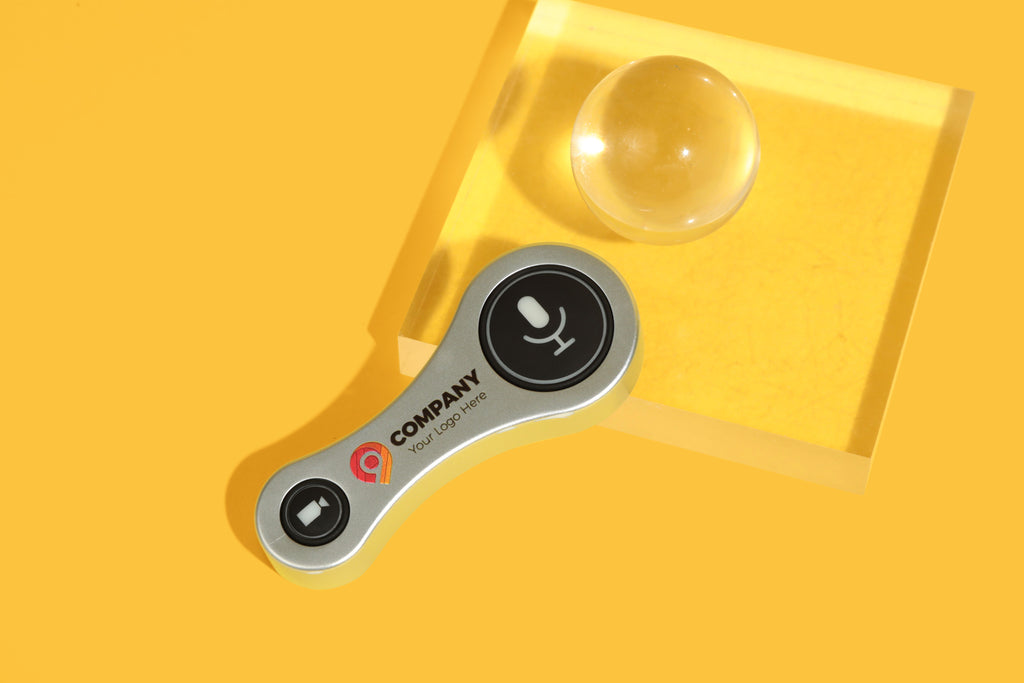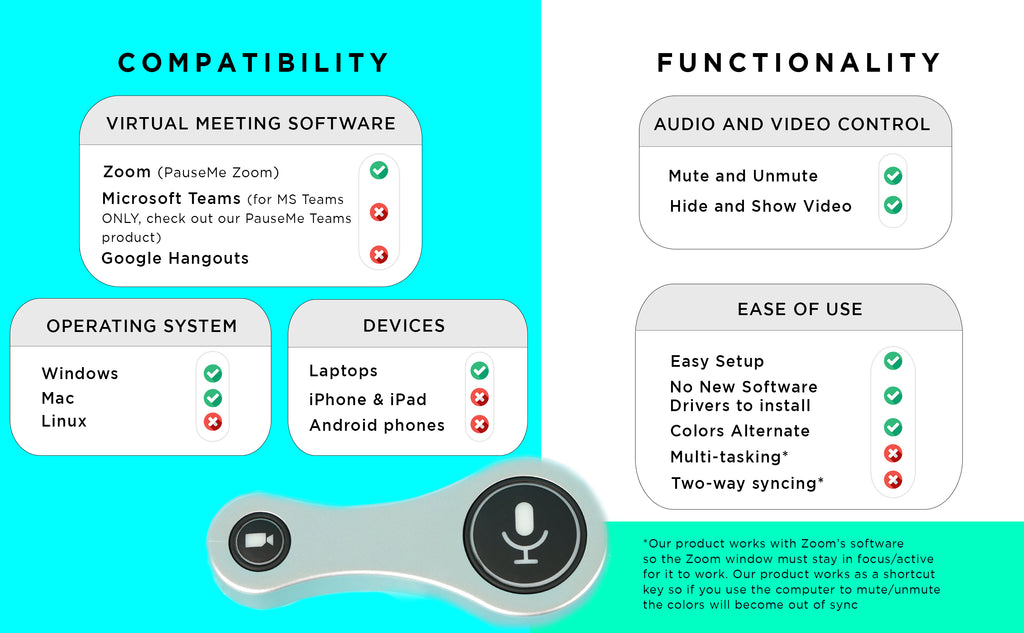 Corporate Branded (35 unit minimum) - PauseMe Zoom - Button
Our best-selling PauseMe for Zoom button is available with custom branding!
Add your company's logo to PauseMe button corporate order for a personalized look. These are great as employee wellness gifts, new hire welcome gifts, customer appreciation gifts, and brand awareness giveaways. 
They're useful and consistently used so your logo will be front and center in customers or prospects workday. (and for your employees it's a persistent reminder of the care you showed them with a wellness-related gift). 
We offer custom corporate branding- 1 logo per order- for any orders over 35 units.  (Please note you must place an order for 35 units or more, otherwise your order will be automatically adjusted to a non-branded order.)
-----
The PauseMe Bluetooth® Video and Microphone Controller (VMC) enables you to take control of your virtual meetings in a whole new way.
Use this button to seamlessly toggle between the "off" and "on" setting for your video and microphone on Zoom, you can avoid awkward situations in which parts of your personal life accidentally end up on the screen for your business acquaintances and colleagues to see. 
Bluetooth® enabled

No downloads or software required

Compatible with (only) Zoom on Mac OS and Windows. 

Mobile, easy-to-use button for on-the-go moments

Compact design: dimensions are 3.54 long x 1.49 wide x 0.55 high inches, weight is .93 ounces
Our button works like a sleek hotkey, so you must keep Zoom screen in focus for optimal experience!
Shipping Information

We're happy to include free shipping for all orders! (You will see it once you complete the checkout.)

Domestic corporate branded orders typically take between 2-3 weeks to arrive. (It generally takes us about 1-2 weeks to process your order and get the branding done, and then it ships quickly.)

International delivery times vary based on country. (Countries further from the U.S. take longer and some countries have slower custom's processing. A courtesy reminder that some international recipients will have to pay customs fees to receive their orders.)

No changes can be made to imagery once you've placed your order so be sure to upload the jpeg and position it the way you like it on the product.

For all orders please be sure to put your full and complete address in:
First and Last Name
Street address line 1
Street Address line 2
city, state, Country, Zipcode
Phone number (required for international orders)

You can read our full shipping policy here: https://www.pause-me.com/policies/shipping-policy
How to Set Up Your Corporate Branded (35 unit minimum) - PauseMe Zoom - Button

Be sure to follow these instructions for a seamless set up!Set up Instructions for PauseMe Zoom

- Ensure you've charged your PauseMe Zoom for 30 minutes before your first use.
- Turn on your laptop– make sure you're using a laptop that's compatible with the button!
- Open Bluetooth settings so that your machine is actively searching for Bluetooth devices (for macs it appears automatically when you are in the Bluetooth settings, for most windows machines you will click add the device in your Bluetooth settings to get to the search mode)
- Press and hold the mute key on the PauseMe Zoom for 3 seconds while it is searching (Note: after this step you may see red flashes or no lights depending on what operating system you are running. That's perfectly expected- just wait up to 60 seconds and you will see the button in your Bluetooth settings and be able to pair!)
- You will see the "PauseMe Button" appear in your Bluetooth settings after a few sections
- Click connect on your machine. And then click done.
- Your PauseMe is paired and ready to use on Zoom! (For some machines the lights will only show up only once you're actually in Zoom).
Using Your Corporate Branded (35 unit minimum) - PauseMe Zoom - Button

The most important part of using a PauseMe Zoom is your Zoom meeting must be the active window/in focus. The PauseMe works with Zoom software so if another window is in focus, it won't work.

Once your Zoom meeting is on the active screen you can use the below controls to use it!

Mute/Unmute: Click the mute button (the one with the microphone icon)

Hide/Show video: Click the video button (the one with the camera icon)

Turn On: Make sure the device is charged. Press down and hold the MUTE button for 3 seconds

Turn Off: Press down and hold the Mute button for 3 seconds (you will see both lights turn off)
More Tips and Information

I tried to pair but I don't see any lights/ I get red flashes when I try to pair. What does this mean?

No lights or red lights are perfectly expected during pairing. Make sure you've charged the device, are using a supported devices, and are following the above set up instructions closely!

The colors don't sync up with my mic/video status. How do I fix it?

The PauseMe does not support two-way syncing.If the colors or status get out of sync, simply click mute/hide video on your computer and it'll be back to normal.

Does it work with other meeting software?

The PauseMe for Zoom just works with Zoom. Our PauseMe MS Teams (which is a completely separate product not included in this product) works with MS Teams only.